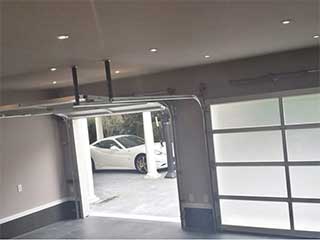 A garage door and its automatic opening system is a household item that is easy to take for granted. When you leave the house, it opens, and when you drive away, it closes. But the operation of that system involves many parts working together, and maintenance of those parts is essential to keeping the system operating when you need it to. Our professionals at Garage Door Repair Suwanee can provide you with peace of mind by providing maintenance for your door, and ensuring issues don't crop up that can lead to larger problems. Here are some upkeep services to consider.
Rollers and Tracks
The garage door opens and closes via a roller and track system that holds and moves a lot of weight. As a result, inspection of these parts is important as they are a vital part of the system and used many times a day. Our technicians will check for worn, chipped or cracked rollers, and replace them if necessary. Tracks also need to be inspected to ensure they are free of debris and that they are level. Our professional technicians should handle any adjustments to the track system.
Tension and Balance
Your door does a lot of work opening and closing several times each day, and over the course of a year, that's a lot of up and down movements. Hardware such as springs and cables can become loose, and tension can be affected. Our technicians will examine the tension, the balance, and hardware such as the springs and cables, and make any necessary adjustments. Lubrication of those parts is also essential to keep them running smoothly, and we can ensure each of the parts is lubricated properly. Such upkeep will not only ensure your door works properly, it can add years to the life of the door and opener.
Testing the Auto Reverse Safety System
One key part of the opening system is the auto-reverse, which means the door won't close if an object or person is in the way. That system must be checked regularly to ensure its safety and integrity. For instance, the sensors that read if something is in the way can become misaligned, dirty, or worn out. Don't wait for a safety issue to arise. Get our professionals to perform safety checks on your system and prevent a potentially dangerous accident if the door closes with something or someone under it.
Give our team a call if you need help with:
Genie Garage Door Openers
New Garage Door Installation
Galvanized Torsion Spring Installation
Garage Door Troubleshooting Services