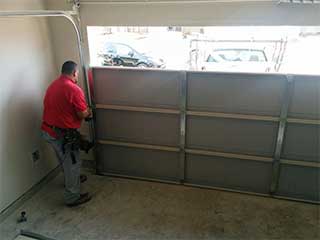 Some people are tempted to try the hands-on approach when it comes to fixing their broken or damaged garage door. And while DIY can save a few dollars on odd little jobs around the house, some tasks are best left to the professionals.
Safety Comes First
When you consider that a garage door can weigh up to 400 pounds you start to realize the kind of forces that are required to open and close it. Your door springs are powerful metal coils that are prone to wear over time. A weak spring can break and fly off, causing real damage to anyone standing nearby. If you have a spring that needs replacing, better be safe and call in our experts. Track alignment is another important and potentially dangerous task that you may need to have performed. The door relies on these components to guide its movement, so if they are bent or misaligned, you could end up with a situation where the door gets off track. Our technicians can quickly repair things if that happens.
Save Time and Money
Whether it's the opener, panels, rollers, or any other component, attempting to fix things by yourself will always involve the risk of making things worse, rather than better. Our skilled technicians know garage door systems inside and out. They are fully trained to deal with all kinds of faults and can carry out repairs quickly and safely, and at a price that will leave you pleasantly surprised. If your opener starts acting up and won't respond, we can help you with that as well. Garage door opener repair is one of our specialties, so rest assured that we can handle any motor gear or circuit board issues you may be experiencing.
Don't Wait, Call Today
Don't fall into the DIY trap. Fixing your garage door is a job that requires professional training and a lot of experience and skill. Choosing to get professional assistance will save you time, money and keep you safe from harm. Our team at Garage Door Repair Suwanee can cover the entire range of possible problems you may experience and our services are the best and most cost-effective ones around. Call us today and tell us what you need.
We Also Offer:
Garage Door Tune Up Services
Garage Door Cable Replacement
Garage Door Remote Clickers