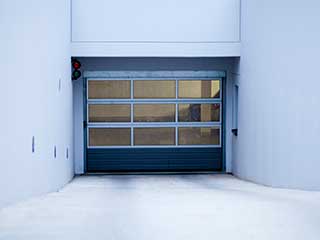 Garage doors are a must-have part of many contemporary American houses today. Further, it's possible to find a vast range of different styles on the market these days when it comes to design, style, brand color, and of course, material.
Material choice is important when it comes to initial investment and long-term maintenance of your garage door. Our technicians at Suwanee are on hand to help you choose the right option for you before you take the plunge and make that all important final decision.
Steel - The Popular Choice

Steel garage doors are very popular these days. This is because they are generally affordable and they can be customized with re-painting in your favorite color. You can even choose a particular design to get your steel door looking like wood - you'll have affordability, the natural look, and durability.

Aluminum - Cheap & Lightweight

Many people in Georgia prefer aluminum garage doors because they are cheap and lightweight and share many common qualities with steel. Its basic disadvantage is that it's a softer material and so may require a bit more in terms of maintenance to avoid lasting dents and malfunctions.

Wood - The Natural Option

Many older style garage doors were made out of wood and this is still a popular choice for those looking for an all-natural appearance. Wood is a great choice but can be prone to rot in wetter climates which is something to bear in mind - you can always prevent this with a weather-resistant coating.

Glass - Customization Possibilities

Glass garage doors are not that popular yet, perhaps due to the fact that people believe they are not very durable and may offer less in the way of security. Actually, they are much stronger than they look and can be a wonderful option for those who want to allow natural sunlight into their garage space. Glass can also be a good choice for those living close to seawater because of it's resistant to erosion from the sea salt.
If you need more assistance when it comes to choosing the right garage door for you, just give our experts a call at Garage Door Repair Suwanee!